You always know it's spring in Northern Nevada when the desert peaches (Prunus andersonii) start to show off their pink and mauve flowers. Rarely, the pink is so pale the flowers look almost white.
Desert peach serve as an opening act to the antelope bitterbrush, which bloom a week or two later than the desert peaches.
Normally, in Northern and Central Nevada, desert peaches hit their flowering stride from mid-March to early April. However, this year, due to the large amounts of snow in the winter, they're blooming the first week of May.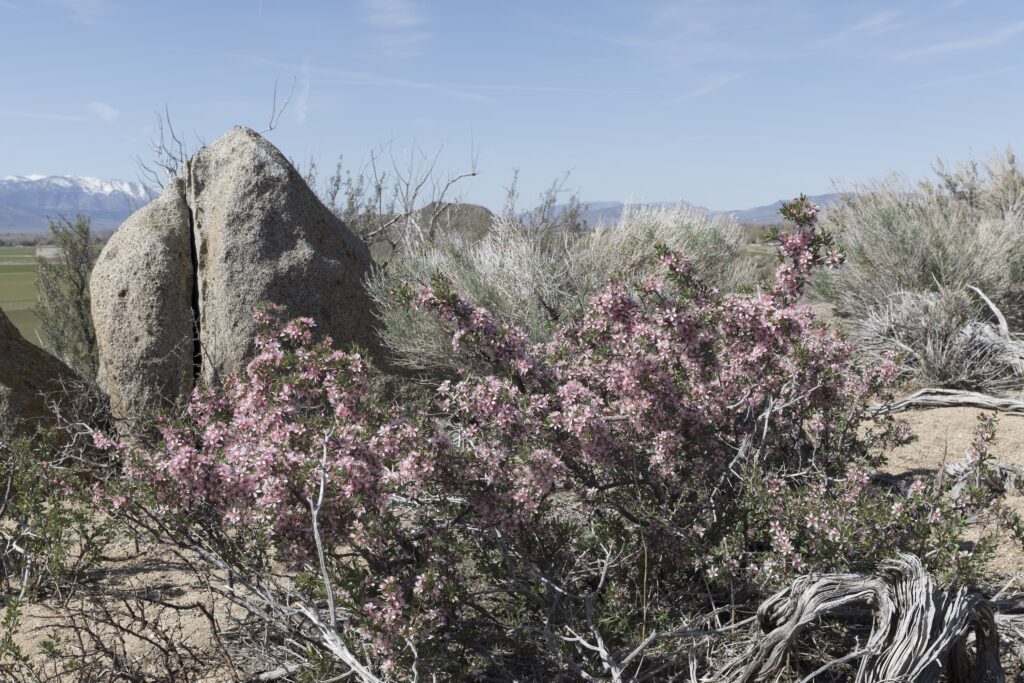 You'll find desert peaches growing among the sagebrush, rabbit brush, bitterbrush, and other desert vegetation. They grow from the eastern slopes of the Sierra across Western and Northern Nevada as far east as Eureka and as far south as Nye County (Tonopah).
Why Are They Called Desert Peach?
The common name is due to the tiny, fuzzy, peach-shaped fruits that the plant produces later in the summer. The scientific name Prunus is the Latin word for plum while andersonii is in honor of botanist and early resident of Carson City, Charles Lewis Anderson (1827-1910). Anderson was author of the Catalog of Nevada Flora, published in 1871.
Nevada Wildflower Report 2023 – Desert Peaches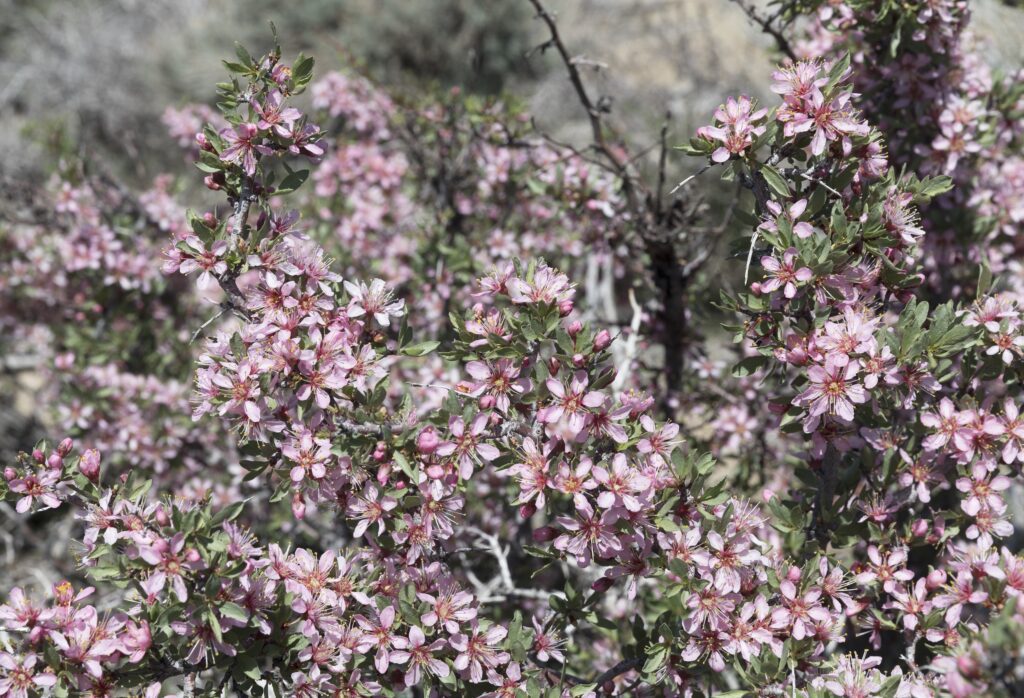 Here's where you'll find desert peaches blooming as of May 1, 2023:
• Water Tower Hill, Gardnerville – Most of the bushes are at peak here, although the valley to the south of the hill usually starts later and may be a week or so behind.
• Fay Luther Trail, Gardnerville – The desert peaches here are just starting. But be aware that they took out large swaths of vegetation near the first part of the trail, presumably to serve as a wildfire break. They left some desert peaches next to the trail, but yanked out a particularly nice batch that were growing near where the mudslide happened last summer. The bitterbrush in the area fared better during the culling as they left a large number of those intact. You can still see desert peach on the trail—just not as much as in the past.
• Mud Lake Road, Gardnerville – Not long past where Tillman turns into a dirt road there's a particularly large and beautiful patch of desert peach next to the road that is at peak. Over on National Forest Service land next to the old Bentley Ranch, the desert peaches were just starting a few days ago so they may be near peak now.
• Near Mayberry Park, Reno – Not sure what stage these are at, but my guess is they're either at or near peak.
Post a comment to this blog post letting us know where else in Nevada you've recently seen desert peach blooming.
To read some fun facts about this interesting plant—including what they have in common with aspens—read last year's desert peach blog post. That post also gives directions to some of the areas mentioned above.