UPDATE: They've delayed this construction project and will announce a new date soon. It could still happen during fall foliage season. Stay tuned for the new date and call the ranger district office number in the post below before heading up to Lamoille Canyon.
Sadly, Lamoille Canyon Road (Forest Service Road 660) near Elko, Nevada is closing starting around Monday, September 12, 2022 from Terraces Picnic Area to Road's End Trailhead. According to the Forest Service, the road could be closed for as much as 30 days, meaning fall color enthusiasts will be deprived of most or all of the peak color in Lamoille Canyon.
Construction crews are tearing up and repaving sections of the road and Road's End Trailhead parking lot.
Lamoille Canyon in the Ruby Mountains has some of the best fall foliage in Nevada, so we're sad it's closing for a good part of the fall. But we understand there isn't really a better time to repave the road.
We cross our fingers that they finish early, in which case you might catch the tail end of the fall color show.
If you drive into the canyon during the repaving, you'll need to turn around at the Terraces Picnic Area. Anyone planning on hiking the Ruby Crest Trail can start their hike at Overland Lake, Colonel Moore, or Green Mountain Trailheads instead of at the Road's End Trailhead in Lamoille Canyon. Just be aware that access to those other trailheads may require a 4WD, high-clearance vehicle.
Contact the Mountain City-Ruby Mountains-Jarbidge Ranger District Office in Elko for information and updates at (775) 738-5171 from Monday through Friday between 8 a.m. to 4:30 p.m.
An Alternative To Fall Color in Lamoille Canyon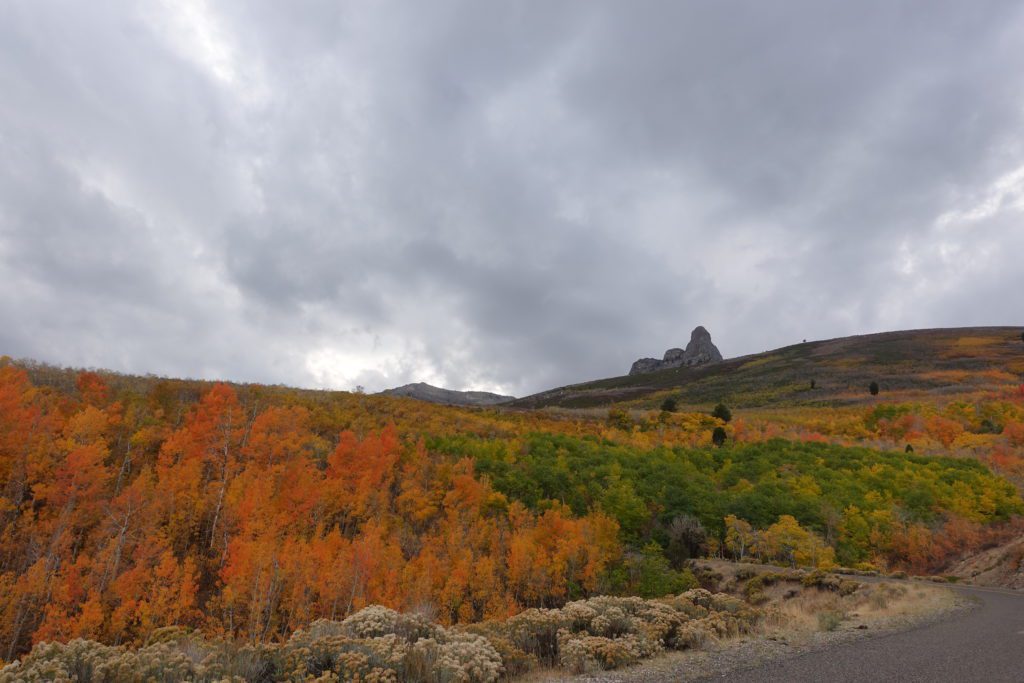 About an hour east of Elko, Angel Creek has some of the most stunning fall foliage in the West. If you're staying in Elko, it's a great alternative to Lamoille Canyon. If you time it right, aspens colored red, orange, and yellow cascade down the hillsides on the drive up to Angel Lake. Check out our blog post from last year to see some spectacular fall color on the road to Angel Lake in early October 2021.