The Angel Creek area near Wells, Nevada is bursting with color right now.
When I visited on October 6, 2021 the aspens around Angel Creek Campground were at Near Peak although there was a large grove of green aspens down by the creek.
At the campground entrance a grove of rounded red and green trees looked like a bouquet of aspens.
Angel Creek Campground was still open as of October 6 but with the rain and snow that could change.
Amazing Fall Foliage Along Angel Creek Road
Driving along Angel Creek Road past the campground was like something out of a fall color fairytale.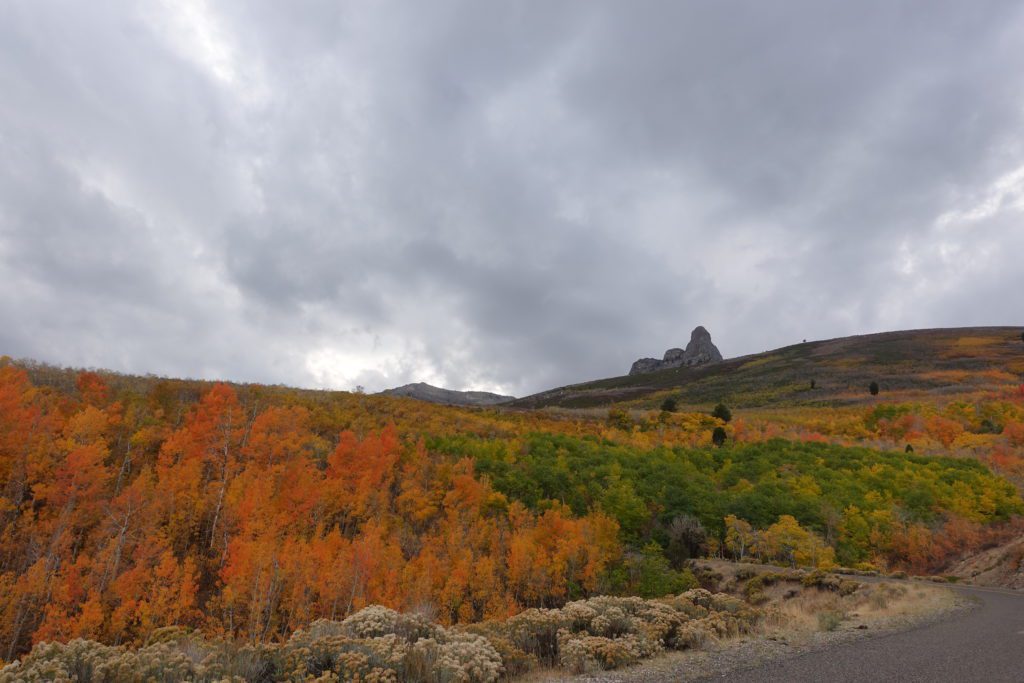 A large wave of orange, yellow, and red aspens spilled down the entire mountainside. This is the type of Nevada Fall Color that will leave you in awe.
Angel Lake Fall Color Fading Away
Up by Angel Lake, things are Fading moving into the Past Peak category. The low-growing aspens near Angel Lake Campground were still green, but it was a drab green. The edges of the leaves were brown. Possibly they were damaged by cold weather or disease. However, you'll still find some small patches of really nice color up there. Orange trees made up for the lack of color in other spots.
Besides, the drive up to the lake was so spectacular it didn't matter the lake was past it's peak.
Angel Lake Campground, by the way, is closed for the season.
Angel Creek and Angel Lake Fall Color Report
Angel Creek Campground: Near Peak (55%)
Angel Creek Road Above Campground: At Peak (90%)
Angel Lake: Fading to Past Peak