This is Nevada Day weekend, when residents celebrate Nevada's admission to statehood on October 31, 1864. Many people had it off from work today. Luckily, the trees haven't taken time off and are still putting on a show.
A fair amount of autumn color still exists even after last weekend's big storm.
The cottonwoods are still looking lovely in many locations in Northern Nevada. And ash trees are also really hitting their stride farther south.
Here is where you can still see fall foliage into Nevada Day weekend (October 29 – 31) and probably for a little ways beyond.
By the way, send in your photos and your own fall color report to kim@nevadafallcolor.com. If Patrick chooses your photo as the best of the season, you'll be eligible for a $50 Amazon gift card and a write up on our blog.
Carson Valley
Cottonwoods and other trees are still painting Carson Valley gold in a number of places. Some of the cottonwoods are a rich golden-orange. As of October 28, Cradlebaugh Bridge on Highway 395 still showed a goodly amount of color.
Cottonwoods still looked gorgeous in other places in the valley like Jacks Valley Road, Foothill Road, and the areas around Faye Luther Trail. 
I'm cheating a bit with the photo above, because the trees growing by the creek Fay Luther Trail are actually on the California side of the trail. But if they pulled up their roots and walked about 1/8 mile away they'd be back in Nevada. Notice that a lot of the willows there are still green and should hopefully continue to provide foliators with some enjoyment for a week or so.
The trees by Mud Lake were also glowing when Patrick was there on 10-26-21. The lake itself is private but you can hike above it on Forest Service land.
Carson Valley Cottonwood Report
At Peak and just a smidgen into the Fading stage
Reno and Areas Nearby
Someone posted a photo on our Nevada Fall Color Facebook page of the cottonwoods along the Truckee River by USA Parkway. As of October 27, 2021 they're looking lovely. Reflections in the river there are beautiful.
Also on our Facebook page, someone posted photos of Idlewild Park in Reno from October 25. The snow-covered mountains in the background with the yellow foliage in the foreground was a sight to behold. Even the ducks swimming around the water—including some rare wood ducks—seemed to enjoy the beautiful day. 
Reno Area Fall Color Report
USA Parkway: At Peak (75%)
Idlewild Park: At Peak (75%)
Dayton 
The cottonwoods in the town of Dayton and Dayton State Park still had a lot of color and a fair amount of green when I was there on October 21 before the big storm.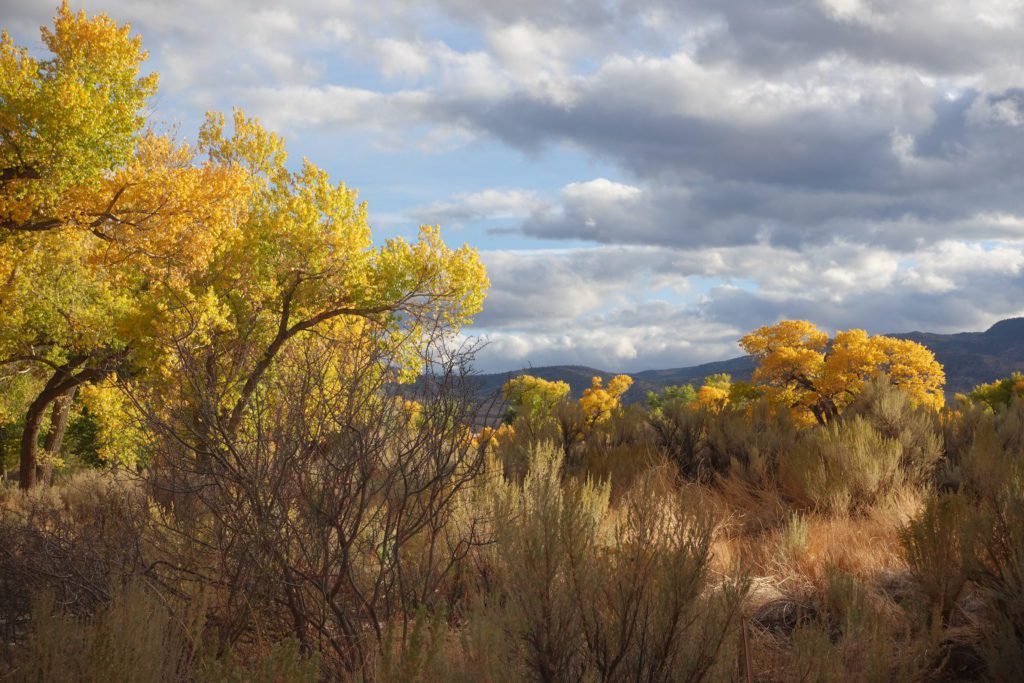 The cottonwood forest there is one of the largest in the state. I expect that between the number of trees growing there and the ones that were lagging behind in their color change, that there's still a lot of fall color happening in Dayton.
Ash Meadows National Wildlife Refuge 
Near the California/Nevada border about two hours' drive north of Las Vegas, this lesser-known area is home to ash trees that change a brilliant yellow, red, and orange. The Caribbean-colored water of the springs there make for a beautiful backdrop to the foliage.
The refuge is home to an ancient species of fish and other wildlife.
I spoke on the phone with the folks at Ash Meadows National Wildlife Refuge on Saturday, October 23. The refuge on that date was a mix of Near Peak to Peak. About half the trees were peaking while the other half were evolving from green to yellow. By now, the whole place should be glowing with color.
Ash Meadows gets our vote as possibly the best place to enjoy fall foliage over the next week. You can combine a visit here with a trip to nearby Death Valley National Park, over the border in California, although Furnace Creek has been a bit toasty lately (in the mid- to upper 90s).
Ash Meadows National Wildlife Refuge Fall Color Report
At Peak: 75% – 100%