I did a double take as I walked out of the ice cream shop and candy store in Beatty, Nevada. We were on our way to Las Vegas back in late September 2021.
The ice cream shop shared a parking lot with a gas station.
And there, right in front of the gas pumps, my husband, Patrick, was petting a wild burro.
The burro was a cute little creature: mostly black with some white fur. And much more friendly than wild burros usually are. He was the star attraction at the gas station that day.
A baby in a mother's arms smiled and waved at the burro. Other people getting gas stared at it in surprise.
Patrick stopped petting his new friend, who he named Donkey-ote, and went back inside the store. Meanwhile, the burro had spotted my ice cream.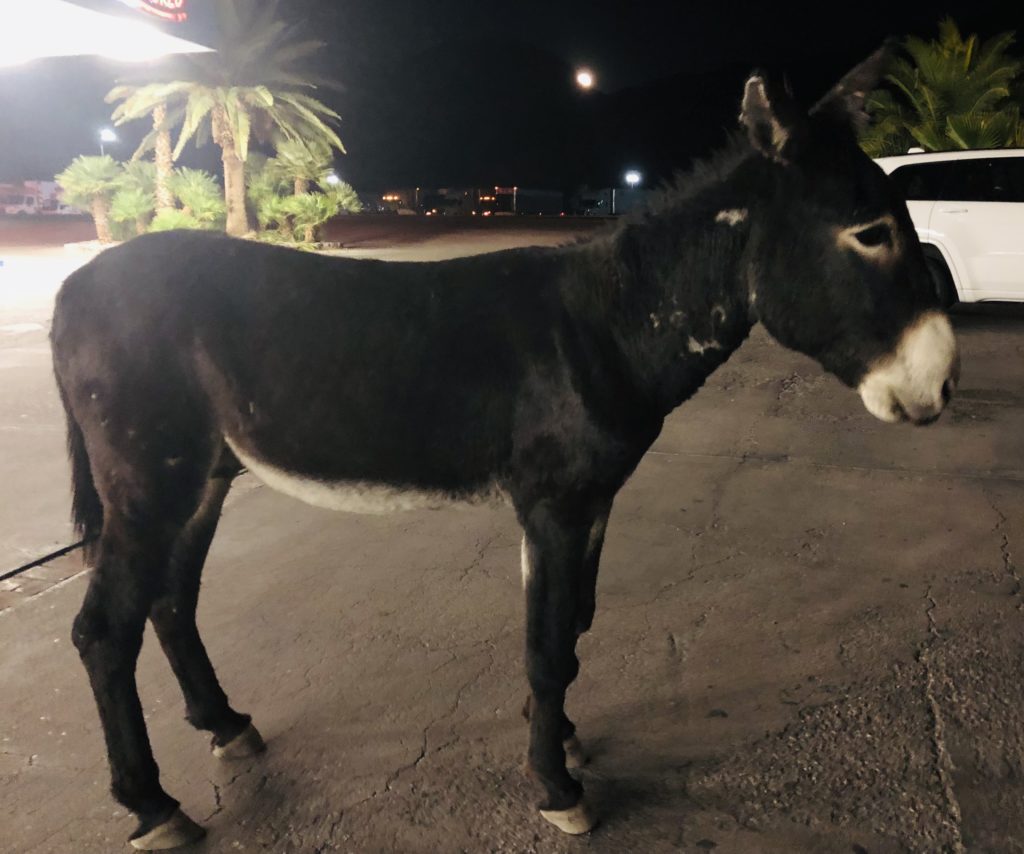 "I know the ice cream looks good," I told it. "But you won't feel good after you eat it."
He seemed to listen to me. Instead of a sweet treat, he chose salad: some green bushes in the store's landscaping. A woman who worked inside the store rushed out and tried to shoo it away from the plants. Reluctantly, he stepped back.
Can't a burro get a good meal around here? he seemed to be thinking.
Burros and the Wild West
As you venture down to Southern Nevada, where the fall foliage in many places is reaching its grand finale, there's a good chance you'll see a wild burro or two or three. They're usually not as friendly and at ease around humans as the one we saw at the gas station.
In fact, we don't recommend you pet them out in the wild. They're a wild animal and their behavior can be unpredictable. But they are cute to look at.
They're pretty amazing animals in that they can endure extreme heat and dehydration. They can go a long time without drinking water.
They're not native–rather they're the descendants of animals that escaped from early settlers or were set free. They're originally from Africa, but the Spaniards first brought them to the Desert Southwest in the 1500s. The word burro comes from the Spanish word borrico, which means donkey.
Now, wild burros are protected under the Wild Horse and Burro Act of 1971. However, wild burros can compete with native animals for water or dirty water sources. That's why the Bureau of Land Management controls their population by adopting out wild burros to anyone who wants to give a home to these cute creatures.
Another Unexpected Burro Sighting
The gas station parking lot in Beatty wasn't the only unexpected place where we saw burros on our trip to Southern Nevada. When we were driving in the upper reaches of the Mount Charleston area, on Highway 158 near the Desert View Overlook, we saw flashing red lights.
Is there an accident, we wondered? But no, the police car was warning us that a trio of wild burros were crossing the road.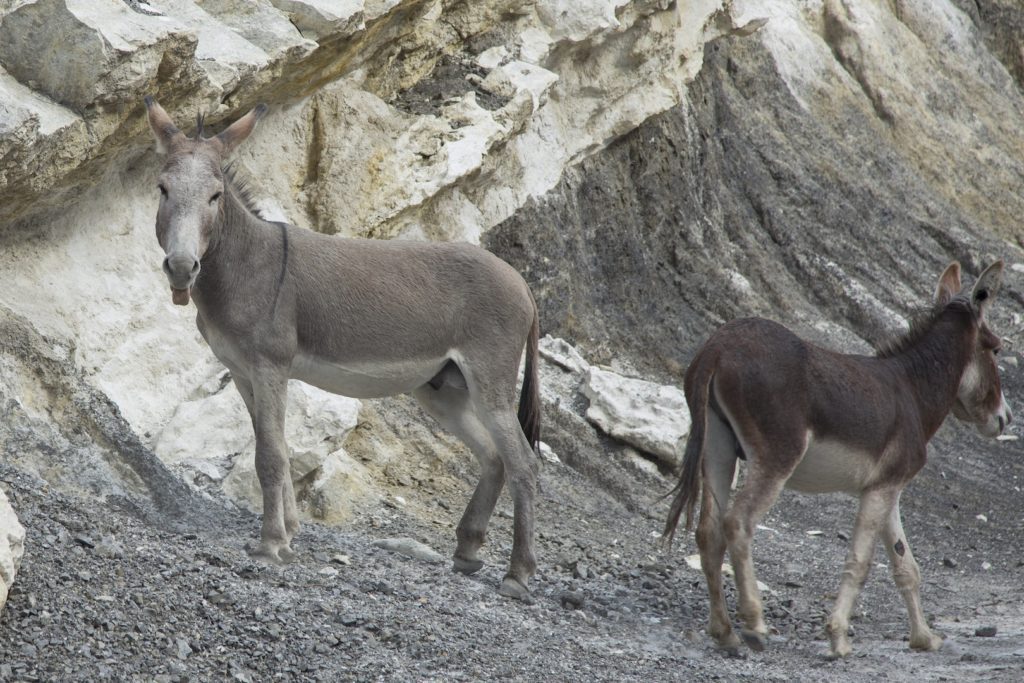 I'd expect to see wild burros at lower elevations amid the sagebrush, mesquite, or cacti or even in the high desert like these ones we saw this past summer near Austin, Nevada.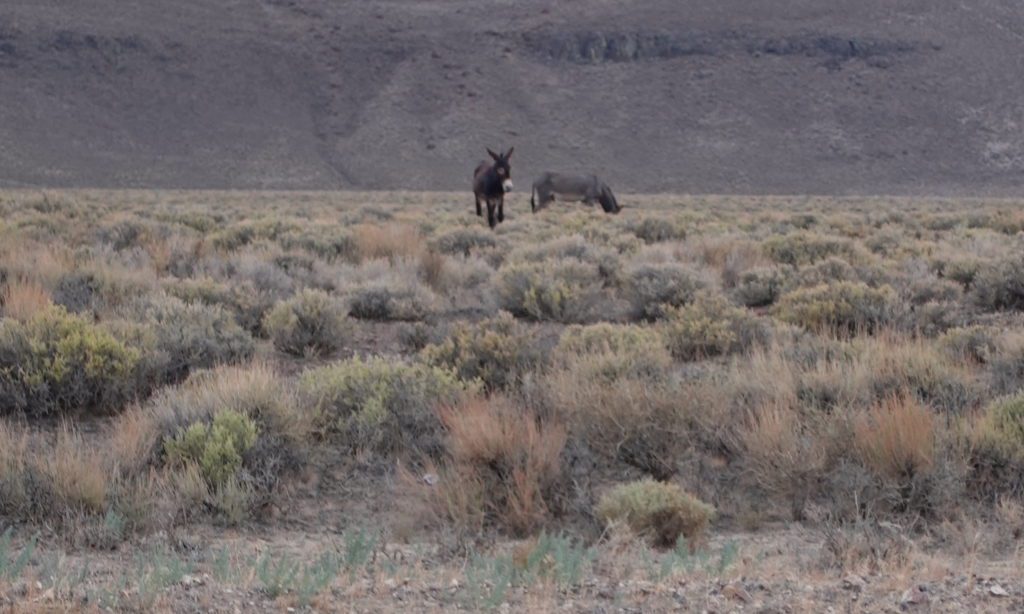 But I don't expect to see them at around 8,000 feet above sea level not far from where the aspens were starting to change. Maybe they were spending time up at their vacation home in the mountains.
Gas Station Burro – The Sequel
On our return trip from Vegas, a couple days after we saw Donkey-ote, we drove past the gas station in Beatty once again. We didn't stop, but we looked over wondering if our friend would be there again.
No, way, I thought. What are the chances?
But there he was, our burro friend, Donkey-ote, chasing windmills in a gas station parking lot.
Where To See Wild Burros in Nevada
Wild donkeys are found in many places throughout the state. Here are a few places where you'll have a better chance of spotting them:
• Red Rock Canyon National Conservation Area
• Beatty and the road leading from Beatty to Death Valley National Park
• Big Smoky Valley and other areas near Austin, Nevada