When the cottonwoods start to change color, they're a majestic sight, 24-karat gold umbrellas. That's what is happening now around Cradlebaugh Bridge, on Highway 395 in the Carson Valley between Carson City and Minden.
Professional photographer Patrick Wilkes stopped there on Wednesday, October 19, 2022 to capture these beautiful shots.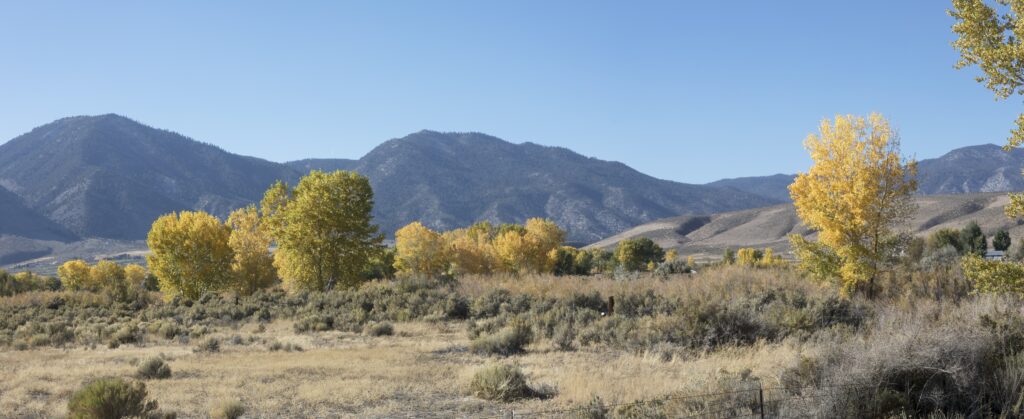 Although Patrick describes the Cradlebaugh Bridge area as being Near Peak (60%), many of the cottonwoods in the southern part of Carson Valley seem to be dragging behind. It's still really patchy there with the exception of the Mud Lake area, where the trees are Getting Better (50%). A few other places throughout the valley are also at Getting Better.
IMPORTANT NOTE: If you pull off at Cradlebaugh to take a photo, be careful merging back on to the highway as it can get busy here. Also DO NOT take photos standing in the highway. That's very dangerous. There's plenty of space on the side of the road to get good shots.
This Weekend's Storm
When an early season winter storm rolls through you never know what will happen to the leaves. Usually, leaves that are still green or Getting Better stay on the trees and continue to change.
If it's really windy, trees that are At Peak lose their leaves. Near Peak could go either way. If it stays cold for several days (in the 30s or below) the leaves can sometimes turn brown.
This Saturday's upcoming storm is expected to bring lots of wind: 35 mph or more in the high desert valleys of Northwestern Nevada and up to 100 mph gusts up on the ridgetops of the Sierra. This won't bode well for high-country fall foliage at peak, although down here in the valleys the cottonwood leaves should continue to put on a show.
Also expect cold temperatures for your fall foliator expeditions this Sunday. It's only supposed to get up to 47 degrees in Gardnerville on Sunday and colder in the mountains. Brrr!
Cottonwoods Fall Color Update
October 19, 2022
Cradlebaugh Bridge: Near Peak (60%)
Rest of Carson Valley: Patchy (20%) to Getting Better (50%)