Austin Summit is a unique place to view changing aspens. Groves of trees are displayed on the hillsides like interesting-shaped wall art hanging on a gallery wall.
It's also a convenient place to see the fall foliage since you can view most of it from Highway 50.
If you want to get closer to the fall color action and if you have a high-clearance 4WD, a mountain bike, or a sturdy pair of hiking boots, you can venture up the dirt road that leads to the communication towers on the mountain. This is a great spot for mountain bikers, as there's an expert trail and parking area up the dirt road.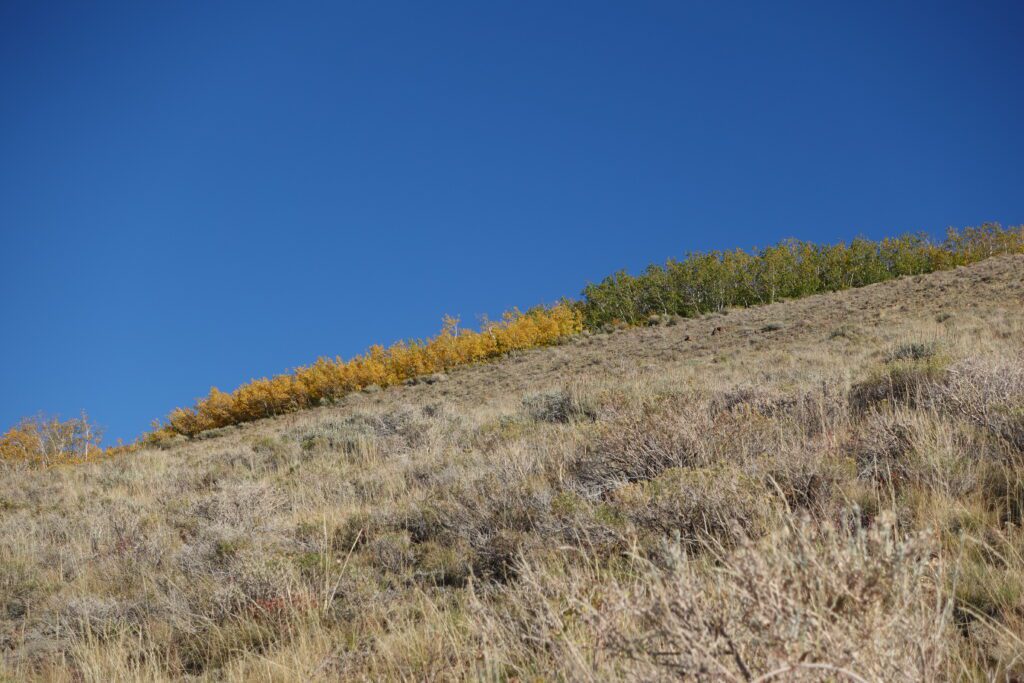 Is Austin Summit Nearing Peak?
We visited here on Monday, October 3, 2022. At the time, some of the groves were half at peak and half green. Other groves were still green. Back then, I rated the entire Austin Summit area as Getting Better (40%).
October 10 – 17 should be a great time to see fall color around Austin Summit. My guess is that during that time it will move from Getting Better into the Near Peak and Peak stages.   
You can combine a trip here with a fall color drive over to Kingston Canyon.
Warning: This area is very dry. Be super careful to avoid starting a fire. Do not let anything drag out of your vehicle and don't drive or park on dry vegetation.
Austin Summit Fall Color Update
Overall Rating as of October 3, 2022: Getting Better (40%)
Expect this area to move into Near Peak and Peak from October 10 – 17, 2022, with some early turning groves moving on into the Fading category.