Hello Fall Foliators! Just a quick recap of the places you're most likely to see fall color in Nevada over the next couple of weeks.
Fall Color Near Reno and Carson City
• Spooner Lake State Park – This location peaked on October 14 last year. Color can peak on different dates each year, but last year the fall foliage here was put to an early end by a winter storm. With good weather predicted over this coming week, there's a good chance you'll still find color at Spooner Lake State Park through at least October 22.
• Galena Creek – On the Mount Rose Highway near Reno, the Thomas Creek Trail at Galena Creek is now sporting some nice color. It's at peak at about 75% along the creek. It's a good bet there will be color here through at least October 21.
• Carson Valley (Minden and Gardnerville) – Maples are now at peak here in Carson Valley and make for a scenic drive on State Route 88. Cottonwoods are in the Getting Better stage at 40% with some trees and groves still green while others are golden yellow and at peak. The cottonwoods by Cradlebaugh Bridge are more like 50% and nearing peak.
• Dayton State Park – The cottonwoods here usually peak between October 21 – 31. Nice place for a gentle stroll along the Carson River.
• Yerington/Mason Valley – Expect the cottonwoods here to peak between October 21 – 31.
Fall Color Across the State Line in California
• Woodfords Canyon – Woodfords Canyon is near peak at around 60%. There are some green trees here, too, but there's enough color to light up the canyon. Combine this with a drive on State Route 88 in Minden/Gardnerville to view maples and cottonwoods in the valley and aspens and other trees in the canyon.
Note that past Woodford's Canyon, Hope Valley is past peak, with the exception of the grove coming down from Luther Pass. That grove is always the last to change, but is poised to serve as a nice grand finale probably by October 21 or shortly thereafter.
Fall Color in Central Nevada
• Austin Summit – A lot of the aspens here were still green on October 6, so there should still be some color popping the week of October 16.
• Water Canyon – Last year the aspens at the top of Water Canyon were near peak on October 24. Places change at different paces every year, but this fall color hotspot near Winnemucca is a good bet between October 17 – October 28, presuming we don't get any big snowstorms that freeze the leaves.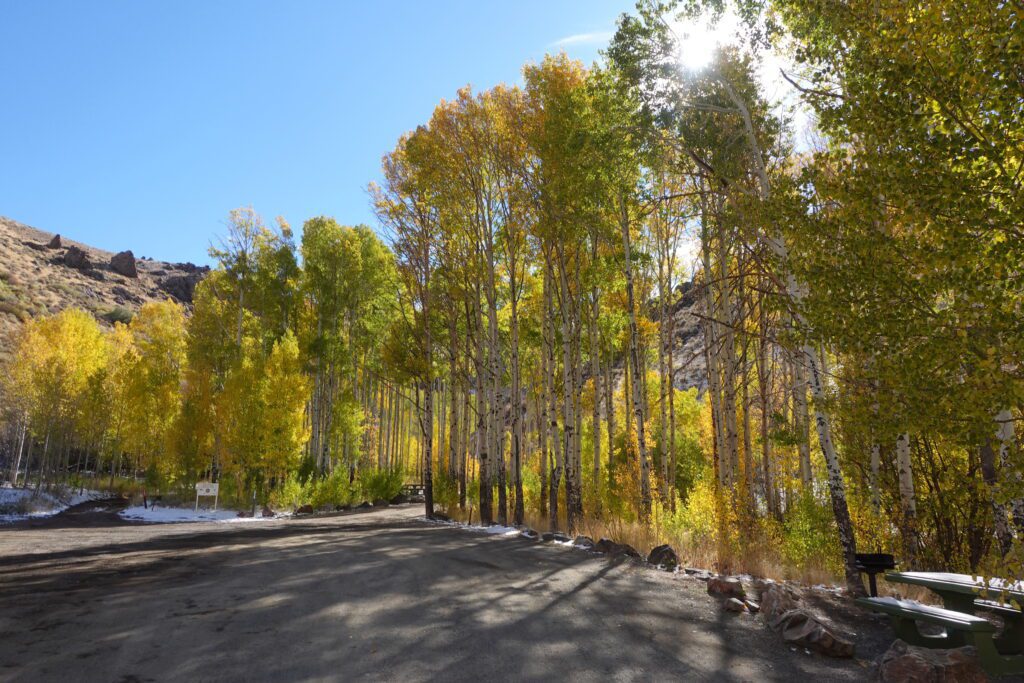 Autumn Foliage in Southern and Southeast Nevada
• Floyd Lamb Park at Tule Springs – This Southern Nevada fall color destination usually peaks between late October to early November. The cottonwoods and other trees tower over several lakes, and lots of birds and wildlife call this place home, so it makes for a peaceful leaf-peeping destination.
• Kershaw-Ryan State Park – This southeastern Nevada location near Pioche tends to turn around October 12 – 21, although dates can vary each year.
Buy Our Fall Color Map For More Info on Each Location
For directions and more information on each of the Nevada locations in this article, buy our fall color map. And have fun out there!